Our zinc YardSaver G66 steel garden shed offers exceptional value. It is a perfect medium size backyard garden shed priced to make sure it is a great bargain for everyone!
This unit is big enough to fit your mower, gardening gear, camping, biking and painting gear without overpowering your backyard. Storage unit is supplied with step by step assembly guide illustrated with pictures to make the installation a fun and easy project.
Key Features:
Measures

2.105m (wide) x 2.105mm (deep)

Height

1.80m (wall) / 2.025m (gable)

Gable Roof
Wide single hinged door (980mm) on the 1.76m end
FREE anchor kits with this garden shed!
Very easy to assemble with Spanbilt Fasttrak assembly system.
15 year written warranty
Comes in Zinc
Assembly:
This is a DIY kit building and a full assembly guide will be provided with your product. Assembly requires more than one person to assemble so remember to organise assistance or consider hiring a professional.
Package size:
2180mm x 370mm x 190mm and approx 67kg
---
A proud owner of one of these sheds is Adrian Moses...
I needed a shed. I'd just moved in to a brand new home and thought the garage would hold all my stuff. Wrong! But then I went and made the same mistake I've made so many times before… I went up to that green and red 'superstore' to see what they had on offer. It all seemed to be going well. I found a nice shed, and it was green, which would look great in my yard. But then I lugged it up to the counter on one of their useless trolleys only to find that the advertised price was only for the Zincalume model, not the one I wanted! What I wanted was $250 more! I argued with the manager and dumped the heavy boxes there at the counter, leaving the store fuming. It can't be that hard to offer good customer service, I was thinking.I went home and got online. One search of 'garden shed' brought up https://www.cheapsheds.com.au. I liked the sound of that! Within 30 minutes I had looked through dozens of sheds, chosen what I wanted, got a bargain and had an email of confirmation that my shed was on its way. And the price? More or less exactly the same as the price I had expected to pay (but been denied) at that other place. Within a couple of weeks the boxes arrived and with a little help from siblings and friends my shed was up and I could park my car in the garage again.
Krisztian and the team at Cheap Sheds have been great. Always keeping in touch with heaps of helpful advice and adding a real personalised touch to the service. I'm loving it.
Cheers,
Adrian, Mona Vale, NSW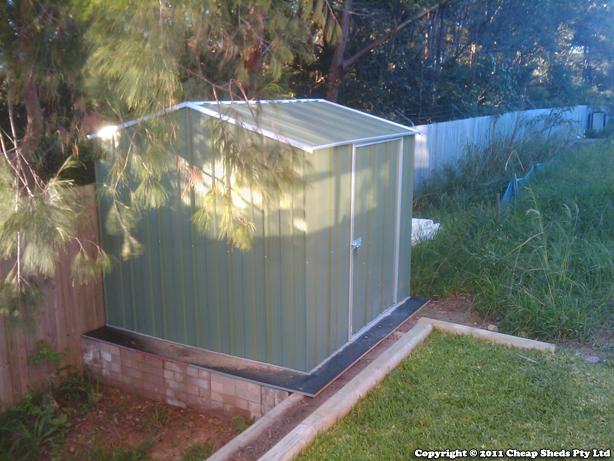 DELIVERY DETAILS:
HOME Delivery
We deliver Australia Wide and cost varies depending on location & brand. If your are 'outside metro areas' please ask staff for quote BEFORE purchase
DEPOT Delivery
A budget friendly option is opting to have your shed delivered to one of our depots in your region and you can pick it up.
As each range offers different delivery options there are a few things you need to know about Delivery. So please check out the delivery page BEFORE purchasing a product to make sure you make the right decision for your needs.
X
Need a shed NOW? You are not alone, often people are hit by disasters or have to move and change storage solutions asap. Whatever your reason if you need a shed today but cannot afford it, we have solutions for you!
Cheap Sheds offers you 2 payment options, ZipMoney or Laybuy.
ZipMoney is a payment service where you can buy your product, have it delivered and pay later! Best of all it's Interest FREE for up to 6 months! You can apply for the loan online in a few minutes and organise low monthly repayments which work best for you.
Why it is so great?

What are the fees?

You get your product immediately

Provides up to 6 months Interest FREE

You can take up to $5000 Credit

Apply Online - It only takes 3 mins!

You can arrange low monthly payments

A one off establishment fee applies above $1000. This added to your interest free balance.

Minimum monthly payments apply

A small account keeping fee of $4.95 if you have a balance owing
Find out more >> ZipMoney Payments
Lay-Buy is an affordable payment plan option which allows you to pay-off your shed via one down payment, with the balance paid over 1, 2 or 3 monthly instalments. Your item is delivered to you after the final payment . A small 0.9% admin fee is payable.
Why it is so great?

What are the fees?

Secure your shed at a great price

No application process

Order can be canceled before full payment received

No interest - no ongoing fees

Have to put a down payment first & pay an admin fee (0.9%)

Have to wait till you pay it off before you can receive your shed
Find out more >> Lay-Buy Payments
| | |
| --- | --- |
| Country of Manufacture | Australia |
| Manufacturer | Spanbilt |
| Model | YardSaver G66 ZA |
| Roof Type | Gable |
| Size | 2105mm (Width) X 2105mm (Depth) |
| Height | 1800mm (Wall) / 2025mm (Gable) |
| Door Type | Single Hinged |
| Opening Width | 980mm |
| Wind Rating | N3 |
| Material | Zinc |
Quality
4 star :
( 2 )
3 star :
( 1 )
Value
5 star :
( 1 )
4 star :
( 2 )
Price
4 star :
( 3 )
Ease of Assembly
2 star :
( 2 )
1 star :
( 1 )
Total : 3 Reviews
Sort by:
Confusing instructions Review by

Duke
| | |
| --- | --- |
| Price | |
| Value | |
| Quality | |
| Ease of Assembly | |
Ok for the $$$ (Posted on 11 April 2019)
Would you recommend this product to a friend? Not sure


poor Review by

Paul
| | |
| --- | --- |
| Value | |
| Quality | |
| Price | |
| Ease of Assembly | |
Shed was cheap so priced right,
Installation was over the top and we have installed a lot of shed in out time
Had to drive 35 minutes each way to the factory twice to get parts that were missing before we could proceed onto the next stage of construction.. (Posted on 14 February 2019)
Would you recommend this product to a friend? Unlikely


Nice little shed Review by

Tojobob
| | |
| --- | --- |
| Value | |
| Quality | |
| Price | |
| Ease of Assembly | |
Nice little shed; perfect size for my small yard and the wide entrance door makes storing items like wheel barrows and the lawnmower easy.
The only draw back is that it is quite difficult to assemble as the instructions aren't all that detailed. If the instructions were a little more precise I think the whole assembly would be much easier. As it was, it took me 2 days to put it all together with the help of my wife and it caused us a lot of arguments in the process, but we eventually managed to set it up. (Posted on 3 December 2015)
Would you recommend this product to a friend? Definitely yes


Product Faqs
Hi can the door be made to open the other way

Hello Paul, thank you for your question. Yes, you may hang the door the other way. Cheers, Chai
Bonuses
Buy 1 Give 1
By purchasing a product from Cheap Sheds we are sharing the joy of 'Giving' with you.
Each time a customer buys a product we make a donation through B1G1 to support projects around the world, helping those who are in need.
It costs you no more and it is simply a donation we make from our own profit.
We believe businesses have the power to make a difference, so we make sure we share this 'act of giving' with our customers. Without you, we cannot do it.
So just by buying from us you are helping us help those in need. It may be giving a child in India water for a month, providing a family in Africa with medical support or even planting a tree. Each month our team nominates a project and makes a donation.
To see exactly what our customers have made possible visit Save-The-World
Lawn Care
Become a lawn guru with your complimentary guide…
"The secret of a great lawn without needing a professional - you can do it and I can show you how!!!" (Valued at $24)
We know there is nothing more satisfying for a homeowner than a beautiful green and clean-cut lawn. It's something about being an Aussie and being proud of our land.
Get your lawn looking like a putting green with this complimentary digital book (delivered to you in a PDF format), with your next purchase.
This book is currently being sold for $24!
Organic Gardening
Going organic in our homes and gardens is one of the latest trends that I personally love. Nothing beats pure and natural foods and living a healthy life.
So I wanted to give you something that contributes to you and your family's wellbeing, as well as serves as a hobby. All customers who purchase from us will receive the organic gardening guide called…
"Growing Organic Vegetables Explained!"(Valued at $27)
This digital book is delivered to you in a PDF format and generally sold for $27! But for our customers it comes complimentary with any purchase at Cheap Sheds.
Accessories

Our Price

Qty

Chemical Shed Ventilation Kit - Add this cost effective and reliable chemical kit to avoid any dangers in storing minor chemicals in your shed (2 x Chem Vent with Cowling and 1 x Padlock).

Flooring Kit M Perfect for semi-permanent installations. Add Plywood or slats to create flooring surface. Strong & durable 80X40mm galvanised steel frame. Could be used in conjunction with road base or as a frame for formwork

Skylight Sheet for Garden Shed - To let natural light into your shed (350mm wide).

Sliding Perspex Window - To let natural light and air in to your shed (0.71m x 0.35m).

Multi-Purpose Hooks - To create perfect order in your shed (5pk).

Corner Shelving - To utilise the corners in your shed (770mm x 300mm - set of 6).

Tool Hanging Rack x 2 - To organise your tools (0.69m long x 2)

3 Tier Shelf - Smart storage in your shed (0.76m x 0.3m x 0.56m).

C2 (W50) Cyclonic Upgrade (medium - Spanbilt)
Buy now, and pay later.
Flexible and interest free payments with zipMoney.
Here's how.
Checkout with zipMoney
Apply for real-time decision
Secure your products today
Here's why.
Checkout today, with nothing to pay
Flexible, and interest free repayments
Up to $5,000 credit to re-use
Buyer protection on all purchases
---