Absco's Worksop Shed is the ultimate garden shed suitable as an amazing workshop for the hobbyist or a large storage shed for the serious gardener or the home handyman.
This Workshop Shed is engineered to withstand cyclonic conditions of up to 147km/hr winds (N2).
Packaging size and weight to help you organise your transport if you choose our popular depot delivery option.
This shed comes in 2 cartons:
2120mm x 860mm x 80mm and 80kg
2120mm x 860mm x 80mm and 80kg
This product comes with 30 year written warranty.
For permanent secure installation of your shed it is recommended to use anchors. To secure the walls to your concrete slab you will need 16 anchors for this shed.
* NO DELIVERY TO: Russell Island, Christmas Island & Cocos (Keeling) Islands (6798, 6799).
---
A proud owner of one of these workshop sheds is Mark Chilton...
The service you provided was impressive; particularly in that you provided that seemingly rare commodity of timely communication.

I didn't think I would be able to find the space to set-up a workshop for bike repairs and associated activities from home as we are looking at dividing our corner block to help with finances. I have been slower getting set-up that I thought as a fellow business owner has taken on a couple of my ideas in partnership and I also provided me with casual work. But I'm about to take a break, during which time I'll finish setting up and take care of some very patient customers. (There is room for the truing stand and a bike fit area but I'm a bit worried about the beer fridge and couch!!)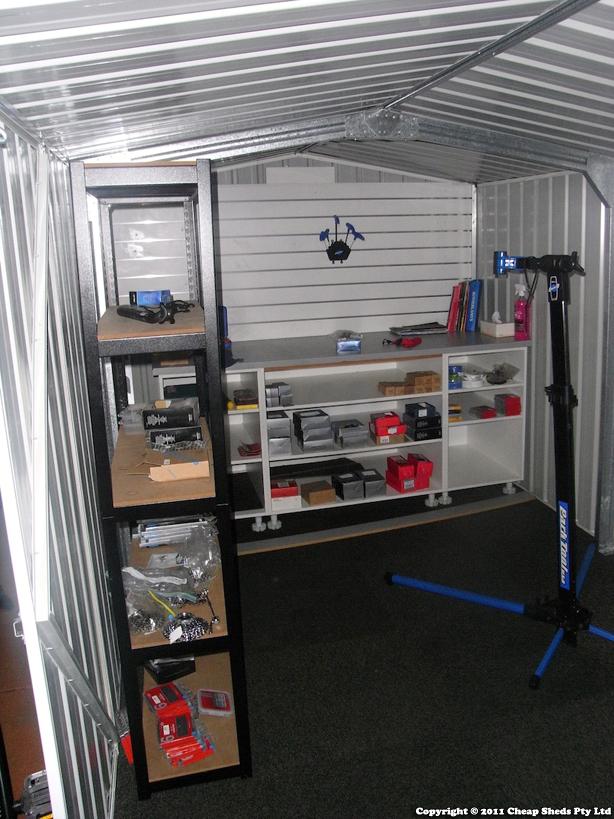 Cheers,
Mark Chilton (Flea), Oakleigh South, Vic
DELIVERY DETAILS:
HOME Delivery
We deliver Australia Wide and cost varies depending on location & brand. If your are 'outside metro areas' please ask staff for quote BEFORE purchase
DEPOT Delivery
A budget friendly option is opting to have your shed delivered to one of our depots in your region and you can pick it up.
As each range offers different delivery options there are a few things you need to know about Delivery. So please check out the delivery page BEFORE purchasing a product to make sure you make the right decision for your needs.
X
Need a shed NOW? You are not alone, often people are hit by disasters or have to move and change storage solutions asap. Whatever your reason if you need a shed today but cannot afford it, we have solutions for you!
Cheap Sheds offers you 2 payment options, ZipMoney or Laybuy.
ZipMoney is a payment service where you can buy your product, have it delivered and pay later! Best of all it's Interest FREE for up to 6 months! You can apply for the loan online in a few minutes and organise low monthly repayments which work best for you.
Why it is so great?

What are the fees?

You get your product immediately

Provides up to 6 months Interest FREE

You can take up to $5000 Credit

Apply Online - It only takes 3 mins!

You can arrange low monthly payments

A one off establishment fee applies above $1000. This added to your interest free balance.

Minimum monthly payments apply

A small account keeping fee of $4.95 if you have a balance owing
Find out more >> ZipMoney Payments
Lay-Buy is an affordable payment plan option which allows you to pay-off your shed via one down payment, with the balance paid over 1, 2 or 3 monthly instalments. Your item is delivered to you after the final payment . A small 0.9% admin fee is payable.
Why it is so great?

What are the fees?

Secure your shed at a great price

No application process

Order can be canceled before full payment received

No interest - no ongoing fees

Have to put a down payment first & pay an admin fee (0.9%)

Have to wait till you pay it off before you can receive your shed
Find out more >> Lay-Buy Payments
| | |
| --- | --- |
| Country of Manufacture | |
| Manufacturer | Absco Industries |
| Model | ZA45232WK |
| Roof Type | Gable |
| Size | 4.50m (Width) X 2.26m (Depth) |
| Height | 2.06m (Gable) / 1.80m (Walls) |
| Door Type | Double Hinged Doors |
| Opening Width | 1.51m |
| Wind Rating | N2 |
| Material | Zincalume |
Product Faqs
Hi Guys, I'm chasing a 4.5 x 2.3m shed ideally with the taller 1.98m wall heights.I notice the sheds with the taller wall option don't seem to have a Sliding Perspex Window option, only louvered.Is it possible to purchase a Sliding Perspex Window from one brand and fit to another?Cheers, Mike

Hi Mike, Yes, it is possible to buy a sliding perspex window from anothr brand to use on Durabuilt shed and fit it in. The only issues is that the window would be coming from a different supplier, different location, so postage fee will apply on the window, both home delivery or depot pick up.
Bonuses
Buy 1 Give 1
By purchasing a product from Cheap Sheds we are sharing the joy of 'Giving' with you.
Each time a customer buys a product we make a donation through B1G1 to support projects around the world, helping those who are in need.
It costs you no more and it is simply a donation we make from our own profit.
We believe businesses have the power to make a difference, so we make sure we share this 'act of giving' with our customers. Without you, we cannot do it.
So just by buying from us you are helping us help those in need. It may be giving a child in India water for a month, providing a family in Africa with medical support or even planting a tree. Each month our team nominates a project and makes a donation.
To see exactly what our customers have made possible visit Save-The-World
Lawn Care
Become a lawn guru with your complimentary guide…
"The secret of a great lawn without needing a professional - you can do it and I can show you how!!!" (Valued at $24)
We know there is nothing more satisfying for a homeowner than a beautiful green and clean-cut lawn. It's something about being an Aussie and being proud of our land.
Get your lawn looking like a putting green with this complimentary digital book (delivered to you in a PDF format), with your next purchase.
This book is currently being sold for $24!
Organic Gardening
Going organic in our homes and gardens is one of the latest trends that I personally love. Nothing beats pure and natural foods and living a healthy life.
So I wanted to give you something that contributes to you and your family's wellbeing, as well as serves as a hobby. All customers who purchase from us will receive the organic gardening guide called…
"Growing Organic Vegetables Explained!"(Valued at $27)
This digital book is delivered to you in a PDF format and generally sold for $27! But for our customers it comes complimentary with any purchase at Cheap Sheds.
Win Your Shed's Purchase Price
By purchasing this shed (garden sheds only, garages and carports do not participate) you qualify to enter our competition to win your shed's purchase price. One lucky customer is drawn every month.
Accessories

Our Price

Qty

Anchor Kit - Set of 12 anchors to anchor your shed to a concrete slab.

Timber Flooring Kit (9) to substitute concrete slab. Made from 100% Australian renewable plantation grown timber. Comes with 10 Years Warranty.

Absco Skylight Sheet for Garden Sheds (1545mm x 330mm)

Anchor Kit - Set of 8 anchors to anchor your shed to a concrete slab.
Related Products
Regular Price: $1,685

Special Price: $1,095

Regular Price: $1,689

Special Price: $1,507

Regular Price: $2,039

Special Price: $1,795
Buy now, and pay later.
Flexible and interest free payments with zipMoney.
Here's how.
Checkout with zipMoney
Apply for real-time decision
Secure your products today
Here's why.
Checkout today, with nothing to pay
Flexible, and interest free repayments
Up to $5,000 credit to re-use
Buyer protection on all purchases
---