Our EasyShed garden sheds represent a fantastic value Australian made range of garden sheds.
The 3m x 2.25m is very popular without a doubt. They are big enough to store all your gardening equipment (including larger machinery such as ride on mower) but still fit comfortably in most suburban backyards. They are also a popular option as a smaller workshop.
There are amazing possibilities to customise your shed and add a wide range of accessories. You can increase the standard 1.8m wall height to 2.1m but this is just the beginning.

You can change the hinged doors to sliding doors, add louvre window, skylight, shelving, tool holders and the list goes on.

It comes with 20 year warranty.
Package sizes:
210cm x 85cm x 7cm and 60kg
300cm x 15cm x 7cm and 15kg
NOTE: The image is for illustrative purposes only.

---
A proud owner of one of these sheds is Wayne Lilley...

I use my shed for a garden shed; to store the bigger and bulkier of the garden tools and free up some space in my garage. My wife had been "motivating" me to get and erect a garden sheds for years and I believe had reached the point that she believed I never would. I knew that it would eventually happen. My wife almost couldn't believe it when I did order your shed. I am pleased with the results and so is my wife.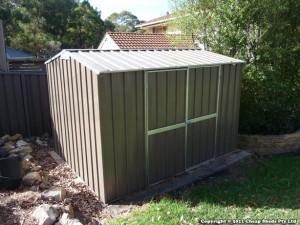 Cheers,
Wayne, Barden Ridge, NSW

Another proud owner...
just a quick word about your shed. I was a bit worried about putting up a garden shed, i live on a coastal headland and watched a storm rip my neighbours garden shed apart and it was a bit protected by the house and fence, where i had to put mine was right out in the open to cop the full force of the weather and wind, i was going to weld up my own frame and sheet it. but i ran out of time and grabbed on of the easy sheds, when i assembled it i threw away the tek screws and used 250 pop riverts i am totally surprized at how strong it is..the day after i got it up we got battered by a storm that lasted over a week...very happy Rob.
Robert Porter, Newcastle, NSW
DELIVERY DETAILS:
HOME Delivery
We deliver Australia Wide and cost varies depending on location & brand. If your are 'outside metro areas' please ask staff for quote BEFORE purchase
DEPOT Delivery
A budget friendly option is opting to have your shed delivered to one of our depots in your region and you can pick it up.
As each range offers different delivery options there are a few things you need to know about Delivery. So please check out the delivery page BEFORE purchasing a product to make sure you make the right decision for your needs.
X
Need a shed NOW? You are not alone, often people are hit by disasters or have to move and change storage solutions asap. Whatever your reason if you need a shed today but cannot afford it, we have solutions for you!
Cheap Sheds offers you 2 payment options, ZipMoney or Laybuy.
ZipMoney is a payment service where you can buy your product, have it delivered and pay later! Best of all it's Interest FREE for up to 6 months! You can apply for the loan online in a few minutes and organise low monthly repayments which work best for you.
Why it is so great?

What are the fees?

You get your product immediately

Provides up to 6 months Interest FREE

You can take up to $5000 Credit

Apply Online - It only takes 3 mins!

You can arrange low monthly payments

A one off establishment fee applies above $1000. This added to your interest free balance.

Minimum monthly payments apply

A small account keeping fee of $4.95 if you have a balance owing
Find out more >> ZipMoney Payments
Lay-Buy is an affordable payment plan option which allows you to pay-off your shed via one down payment, with the balance paid over 1, 2 or 3 monthly instalments. Your item is delivered to you after the final payment . A small 0.9% admin fee is payable.
Why it is so great?

What are the fees?

Secure your shed at a great price

No application process

Order can be canceled before full payment received

No interest - no ongoing fees

Have to put a down payment first & pay an admin fee (0.9%)

Have to wait till you pay it off before you can receive your shed
Find out more >> Lay-Buy Payments
| | |
| --- | --- |
| Country of Manufacture | Australia |
| Manufacturer | Durabuilt EasySHED |
| Model | EGD3023Z |
| Roof Type | Gable |
| Size | 3m (width) x 2.25m (depth) |
| Height | 2.05m (gable) x 1.8m (walls) |
| Door Type | Double Hinged Doors |
| Opening Width | 1.5m |
| Wind Rating | W33 |
| Material | Zinc Steel |
Quality
5 star :
( 2 )
4 star :
( 1 )
3 star :
( 1 )
Value
5 star :
( 3 )
4 star :
( 1 )
Price
5 star :
( 4 )
Ease of Assembly
5 star :
( 2 )
4 star :
( 2 )
Total : 4 Reviews
Sort by:
| | |
| --- | --- |
| Price | |
| Value | |
| Quality | |
| Ease of Assembly | |
Excellent communication and product, fast delivery. Highly recommend. (Posted on 29 May 2013)

| | |
| --- | --- |
| Price | |
| Value | |
| Quality | |
| Ease of Assembly | |
Excellent company, replied to my questions quickly. (Posted on 25 May 2013)

| | |
| --- | --- |
| Value | |
| Quality | |
| Price | |
| Ease of Assembly | |
All quick and easy! Thanks Team! Very helpful and quick to respond! (Posted on 24 May 2013)

| | |
| --- | --- |
| Value | |
| Quality | |
| Price | |
| Ease of Assembly | |
Good customer service: After a bit of stuffing around on our part as an organisation, we still recieved the special after the deadline and the customer service was courteous and helpful.
With the product: the shed was easy to build, and even though we were missing a piece, the shed still went together with only a bit of improvisation. The only concerns are with the method of screwing the roof sheets down in the trough, rather than through the raised ribs (to minimise water penetration), and the thickness of sheeting involved, which made it difficult to screw into in places, and made it feel flimsy. But overall a good value product thanks! (Posted on 14 May 2013)
Would you recommend this product to a friend? Likely


Bonuses
Buy 1 Give 1
By purchasing a product from Cheap Sheds we are sharing the joy of 'Giving' with you.
Each time a customer buys a product we make a donation through B1G1 to support projects around the world, helping those who are in need.
It costs you no more and it is simply a donation we make from our own profit.
We believe businesses have the power to make a difference, so we make sure we share this 'act of giving' with our customers. Without you, we cannot do it.
So just by buying from us you are helping us help those in need. It may be giving a child in India water for a month, providing a family in Africa with medical support or even planting a tree. Each month our team nominates a project and makes a donation.
To see exactly what our customers have made possible visit Save-The-World
Lawn Care
Become a lawn guru with your complimentary guide…
"The secret of a great lawn without needing a professional - you can do it and I can show you how!!!" (Valued at $24)
We know there is nothing more satisfying for a homeowner than a beautiful green and clean-cut lawn. It's something about being an Aussie and being proud of our land.
Get your lawn looking like a putting green with this complimentary digital book (delivered to you in a PDF format), with your next purchase.
This book is currently being sold for $24!
Organic Gardening
Going organic in our homes and gardens is one of the latest trends that I personally love. Nothing beats pure and natural foods and living a healthy life.
So I wanted to give you something that contributes to you and your family's wellbeing, as well as serves as a hobby. All customers who purchase from us will receive the organic gardening guide called…
"Growing Organic Vegetables Explained!"(Valued at $27)
This digital book is delivered to you in a PDF format and generally sold for $27! But for our customers it comes complimentary with any purchase at Cheap Sheds.
Accessories

Our Price

Qty

EasyShed Garden Bed 0.75m (w) x 0.50m (h) - Explore your green thumb by attaching a Garden Bed to your shed (same colour as selected shed).

EasyACCESS (Double) – Shed Ramp for safe & easy access. Ideal for moving lawnmowers, wheelbarrows and bikes in and out of your shed. Not suitable for sliding door(s).

Free standing shelving 800mm (w) x 300m (d) x 1500mm (h) - Australian made, galvanised steel, 300kg unit load, adjustable shelf heights, no nuts or bolts required.

Five (5) Blade Lockable Louvre Window (700mm x 700mm) Zinc - Can be positioned in any panel on the gutter ends of your shed. No cutting or further work needed just simply placing the window.

Double Sliding Doors - If your place is limited or just simply prefer sliding doors, this is an option for you to replace the standard hinged doors.

Fibreglass Skylight Sheet - To let natural light in to your shed

Anchor Pegs - Set of 8 pegs to anchor your shed to soft surfaces.

Concrete Fixing Kit - Set of 8 anchors to anchor your shed to a concrete slab.
Buy now, and pay later.
Flexible and interest free payments with zipMoney.
Here's how.
Checkout with zipMoney
Apply for real-time decision
Secure your products today
Here's why.
Checkout today, with nothing to pay
Flexible, and interest free repayments
Up to $5,000 credit to re-use
Buyer protection on all purchases
---