EasySHED Workbench
What's a workshop without a workbench? The very thought of this would offend any house hold handyman or tradie, and they would respond,
"You can't have a Workshop without a workbench, it's incomplete"
They couldn't be more right! It would be like a baker without an oven or a car without its wheels. Without a workbench, where would you work on that secret project? Where would you lay out your tools before working on your bike or car? Or where would you inspect that broken household appliance?
Never fear because Durabuilt has stepped up to make life easier for Cheap Sheds customers…
They are

giving away

top of the range Workbenches
valued at $239
for FREE with their EasySHEDs Workshop range.


Now you don't even have to worry about building or buying a bench to fit your shed as these workbenches are made for your Durabuilt workshop. The bench is designed to: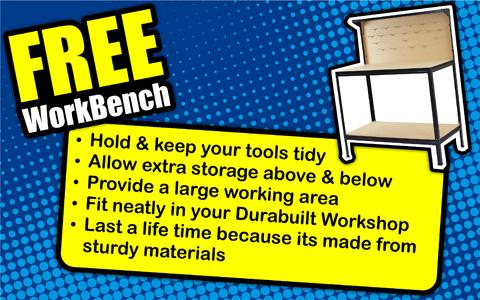 You can get your FREE bench with the following size ranges:
4.5meters in width
6 meters in width
7.5 meters width
So there are no excuses to keep putting off getting your new workshop. Not only will you get the highest quality workshop at an affordable price, you will also be sent a new workbench.
Don't delay, Durabuilt has made this offer to our customers but it won't last long as there are a limited number available. So get in quick!
Features of the Durabilt workshop range
Australian Made
20 years warranty
Fully documented assembly videos are provided
Large range of accessories
Wall height customisation
Window and door options
Different colours to choose from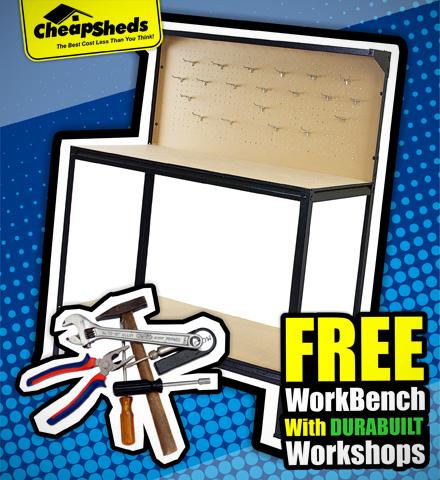 | | | | |
| --- | --- | --- | --- |
| | | | |
| | Model | | 0404 E/C |
| | Roof Type | | Gable |
| | Size | | 4.5m (width) x 2.25m (depth) |
| | Height | | 2.05m (gable) x 1.80m (walls) |
| | Door Type | | Double Hinged Doors |
| | Opening Width | | 1.5m |
| | | | |
| --- | --- | --- | --- |
| | | | |
| | Model | | 0500 E/C |
| | Roof Type | | Gable |
| | Size | | 4.5m (width) x 3.75m (depth) |
| | Height | | 1.8m (walls) x 2.18m (gable) |
| | Door Type | | Double Hinged Doors |
| | Opening Width | | 1.5m |
| | | | |
| --- | --- | --- | --- |
| | | | |
| | Model | | 0500 E/Z |
| | Roof Type | | Gable |
| | Size | | 4.5m (width) x 3.75m (depth) |
| | Height | | 1.8m (walls) x 2.18m (gable) |
| | Door Type | | Double Hinged Doors |
| | Opening Width | | 1.5m |
| | | | |
| --- | --- | --- | --- |
| | | | |
| | Model | | 0406 E/C |
| | Roof Type | | Gable |
| | Size | | 6m (width) x 2.25m (depth) |
| | Height | | 2.05m (gable) x 1.8m (walls) |
| | Door Type | | Double Hinged Doors |
| | Opening Width | | 1.5m |
Workshop EasySHED Gable Roof 6m x 3m Double Door Zinc Shed
| | | | |
| --- | --- | --- | --- |
| | | | |
| | Model | | 0410 E/Z |
| | Roof Type | | Gable |
| | Size | | 6m (width) x 3m (depth) |
| | Height | | 2.1m (gable) x 1.8m (walls) |
| | Door Type | | Double Hinged Doors |
| | Opening Width | | 1.5m |
Workshop EasySHED Gable Roof 6m x 3m Double Door Colour Shed
| | | | |
| --- | --- | --- | --- |
| | | | |
| | Model | | 0410 E/C |
| | Roof Type | | Gable |
| | Size | | 6m (width) x 3m (depth) |
| | Height | | 2.1m (gable) x 1.8m (walls) |
| | Door Type | | Double Hinged Doors |
| | Opening Width | | 1.5m |
| | | | |
| --- | --- | --- | --- |
| | | | |
| | Model | | 0502 E/C |
| | Roof Type | | Gable |
| | Size | | 6m (width) x 3.75m (depth) |
| | Height | | 1.8m (walls) x 2.18m (gable) |
| | Door Type | | Double Hinged Doors |
| | Opening Width | | 1.5m |
| | | | |
| --- | --- | --- | --- |
| | | | |
| | Model | | 0502 E/Z |
| | Roof Type | | Gable |
| | Size | | 6m (width) x 3.75m (depth) |
| | Height | | 1.8m (walls) x 2.18m (gable) |
| | Door Type | | Double Hinged Doors |
| | Opening Width | | 1.5m |
| | | | |
| --- | --- | --- | --- |
| | | | |
| | Model | | 0411 E/C |
| | Roof Type | | Gable |
| | Size | | 7.5m (width) x 3m (depth) |
| | Height | | 1.8m (walls) x 2.1m (gable) |
| | Door Type | | Double Hinged Doors |
| | Opening Width | | 1.5m |
| | | | |
| --- | --- | --- | --- |
| | | | |
| | Model | | 0411 E/Z |
| | Roof Type | | Gable |
| | Size | | 7.5m (width) x 3m (depth) |
| | Height | | 1.8m (walls) x 2.1m (gable) |
| | Door Type | | Double Hinged Doors |
| | Opening Width | | 1.5m |
| | | | |
| --- | --- | --- | --- |
| | | | |
| | Model | | 0503 E/Z |
| | Roof Type | | Gable |
| | Size | | 7.5m (width) x 3.75m (depth) |
| | Height | | 1.8m (walls) x 2.18m (gable) |
| | Door Type | | Double Hinged Doors |
| | Opening Width | | 1.5m |
| | | | |
| --- | --- | --- | --- |
| | | | |
| | Model | | 0503 E/C |
| | Roof Type | | Gable |
| | Size | | 7.5m (width) x 3.75m (depth) |
| | Height | | 2.18m (gable) x 1.80m (walls) |
| | Door Type | | Double Hinged Doors |
| | Opening Width | | 1.50m |